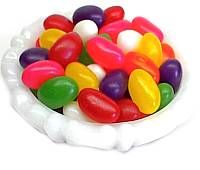 A BAG FULL OF JELLY BEANS
COLORFUL AND SWEET,
IS A PRAYER, IS A PROMISE,
IS A SPECIAL TREAT
MAY THE JOY OF CHRIST'S RESURRECTION
FILL YOUR HEART AND BLESS YOUR LIFE.
RED IS FOR
THE BLOOD HE GAVE.
GREEN IS FOR
THE GRASS HE MADE.
YELLOW IS FOR
THE SUN SO BRIGHT.
ORANGE IS FOR
THE EDGE OF NIGHT.
BLACK IS FOR
THE SINS WE MADE.
WHITE IS FOR
THE GRACE HE GAVE.
PURPLE IS FOR
HIS HOUR OF SORROW.
PINK IS FOR
OUR NEW TOMORROW.
==============================================
here is another version og the poem
LITTLE JELLY BEAN
Little jelly beans, tell a story true
A tale of our Father's love –
Just for you and me.
Green is for the waving palms
Red is for His precious blood
Black is for the sin He washed from your soul and mine
White is for our hearts now clean from sin
Purple's for the sadness of His family and friends
And Yellow is for the glory of the day He rose again.
Now you've heard the story,
you know what each colour means.
The story of our Father's love told by some jelly beans.
So every morning take a bean,
they're really very yummy.
Something for the soul, you see,
and something for the tummy.
================================================
one more
Red is for the blood He gave.
Green is for the grass He made.
Yellow is for the sun so bright.
Orange is for the edge of night.
Black is for the sins we made.
White is for the grace He gave.
Purple is for His hour of sorrow.
Pink is for a new tomorrow.
And handful of jelly beans,
Colorful and sweet,
Is a prayer, a promise,
A loved one's treat!
Happy Resurrection Sunday!